Page 9 - TCExpression | Tata cunsulting engineers limited
P. 9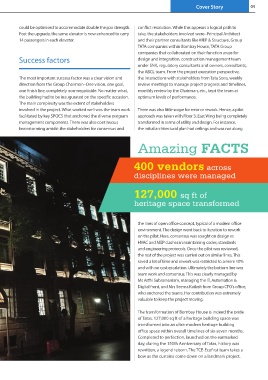 Cover Story             09




          could be optimised to accommodate double the pax strength.   conflict resolution. While this appears a logical path to
          Post the upgrade, the same elevator is now enhanced to carry   take, the stakeholders involved were–Principal Architect
          14 passengers in each elevator.                     and their partner consultants like MEP & Structure, Group
                                                              TATA companies within Bombay House, TATA Group
                                                              companies that collaborated on their function areas for
          Success factors                                     design and integration, construction management team
                                                              under SNK, regulatory consultants and owners, consultants,
                                                              the ABCL team. From the project execution perspective,
          The most important success factor was a clear vision and   the interactions with stakeholders from Tata Sons, weekly
          direction from the Group Chairman–One vision, one goal,   review meetings to manage project progress and timelines,
          one finish line, completely non-negotiable. No matter what,   monthly review by the Chairman, etc., kept the team at
          the building had to be inaugurated on the specific occasion.   optimum levels of performance.
          The main complexity was the extent of stakeholders
          involved in the project. What worked well was the team work   There was also little scope for error or rework. Hence, a pilot
          facilitated by key SPOCS that anchored the diverse program   approach was taken with Floor 3, East Wing being completely
          management components. There was also continuous    transformed in terms of utility and design. For instance,
          brainstorming amidst the stakeholders for consensus and   the initial architectural plan had ceilings and was not along


                                                              Amazing fACts




                                                             400 vendors across
                                                             disciplines were managed




                                                             127,000 sq ft of
                                                             heritage space transformed




                                                              the lines of open office concept, typical of a modern office
                                                              environment. The design went back to iteration to rework
                                                              on the pilot. Here, consensus was sought on design vs
                                                              HVAC and MEP clashes in maintaining codes, standards
                                                              and engineering protocols. Once the pilot was reviewed,
                                                              the rest of the project was carried out on similar lines. This
                                                              saved a lot of time and rework was restricted to a mere 10%
                                                              and with no cost escalation. Ultimately the bottom line was
                                                              team work and consensus. This was clearly managed by
                                                              Ms Arthi Subramaniam, managing the IT, Automation &
                                                              Digital front, and Mrs Seema Kailash from Group CFO's office,
                                                              who anchored the teams. Her contribution was extremely
                                                              valuable to keep the project moving.


                                                              The transformation of Bombay House is indeed the pride
                                                              of Tatas. 127,000 sq ft of a heritage building space was
                                                              transformed into an ultra-modern heritage building
                                                              office space within overall timelines of six-seven months.
                                                              Completed to perfection, launched on the earmarked
                                                              day, during the 150th Anniversary of Tatas, history was
                                                              rewritten, a legend reborn. The TCE-Ecofirst team takes a
                                                              bow as the curtains come down on a landmark project.