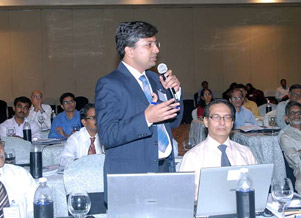 18 October 2008,TCE and Virginia Tech, USA jointly organised a seminar on 'Nanotechnology — Opportunities and Implications' on 18 October 2008 in Mumbai. It was the first in the series of seminars on emerging issues in technology. The inaugural session was well attended by high profile dignitaries from various Tata and non-Tata companies and professors from Virginia Tech.
The distinguished gathering was addressed by TCE Chairman, Mr Syamal Gupta and CEO & MD, Mr A P Mull. Introduction to the seminar series was given by Virginia Tech Vice President for Outreach & International Affairs, Dr John E Dooley and Professor and Head, Engineering Science & Mechanics, Dr Ishwar K Puri. Counselor for Science, Technology, Environment and Health Affairs at the Embassy of USA at New Delhi, Dr Satish V Kulkarni appraised the gathering on the activities of the India-US High Technology Cooperation Group. The keynote address was delivered by Dr F C Kohli, Advisor to Tata Sons Limited and former Deputy Chairman, Tata Consultancy Services.
Participants from TCE, other Tata and non-Tata companies and Virginia Tech Alumni will explore possibilities of the commercial applications of Nanotechnology, in the areas their organisations are involved in. TCE and Virginia Tech plan to hold such seminars at regular intervals.