Metro Rail Electrical System
Key features of Electrical system
The design of electrical system as a whole is based on providing safe, reliable & stable power and efficient performance of electrical system. Redundancy feature will have to be built at each level of power distribution
Selection of traction voltage
The most widely used voltage level for Metro Rail traction system globally is 750V DC. This system has been used in the metros of UK, New York, Singapore, Paris, Beijing, Kolkata, Bangalore, Dubai etc. Mainly DC traction voltage was being used earlier, but with advancement in technologies, many metros have adopted 25kV AC system recently. 25kV AC is used in Delhi, Chennai, Jaipur, Hyderabad, Seoul, Paris and Hongkong.
Following different types of Metro Rail traction systems have been implemented globally:
600V/750V/825V/900V/1200V/1500V DC third rail
630V DC four rails
600V/750V/1500V/3000V DC Overhead system
25kV AC
2 x 25 kV AC
600V AC
A site specific case study is required to be carried out with the use of simulation softwares for selection of most optimum voltage level for the Metro Rail traction system. The analysis covers the max Peak hour peak direction traffic (PHPDT) that can be catered by a particular traction, cost of traction system, cost of rolling stock, civil infrastructure cost etc.
Sub Stations
The metro rail distribution network comprises of the following sub stations:
Receiving Sub station (RSS) - The incoming power supply is received at the first station which is the starting point and called as RSS start. There is one more receiving sub station at the last station and called as RSS end. The voltage level of the incoming supply is usually 66kV, 110kV 132kV or 220kV, but is decided based on the nearby supply available and its suitability considering the total load of the stations for a given Reach / Corridor (the run of metro between the starting station and the end station).The selection of AIS/GIS and its location is done depending upon the space availability at site. Power transformers of suitable rating to step down the incoming voltage to 33kV will be provided in the RSS for feeding the 33kV switchgear at ASS and also for the 33kV supply required for TSS in case of DC traction.
750/1500V DC Traction sub station (TSS) – Transformers and rectifiers will be provided in the TSS to derive 750/1500V DC from 33kV voltage level. The 33kV supply will be connected in ring network to achieve the redundancy required. In case the traction voltage is at 25kV, the incoming voltage level shall be stepped down to 25kV by suitably rated Single phase transformers located at TSS.
Auxiliary sub station (ASS) - The auxiliary sub station feeds the auxiliary loads of the metro stations like lighting, HVAC, pumps, Lifts etc. All the auxiliary loads of individual metro station shall be fed by ASS and ASS shall be connected through ring networks for better reliability.
Traction systems
Traction systems generally are of two types viz – Overhead catenary system (OCS) and Third rail system
Overhead Catenary System (OCS) - It consists of a 25 kV conductor running along the entire route of the metro. The arrangement of "OCS" is depicted in Figure 1 below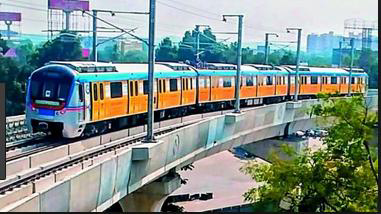 Fig 1 – Overhead catenary system (OCS)
Third rail system – A third rail runs along the tracks for supply of DC power. The arrangement of "Third rail" is depicted in Figure 2 below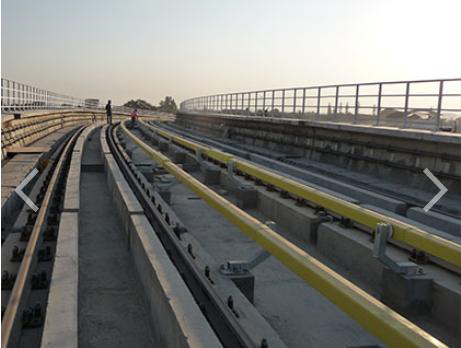 Fig 2 – DC Third rail system
Reliability and redundancy measures
For providing uninterrupted services, the power distribution for metro is provided with adequate redundancies at each level from source to load; such as provision of standby equipment, ring networks etc. Standby generator is provided at all stations to feed essential loads in case of failure of the normal station power supply
Operational Control Centre (OCC)
For control and monitoring of the entire metro rail system, a centralised control center is provided as a separate building. All systems of the RSS, TSS and ASS are monitored and controlled at the OCC through SCADA. Building Management System is provided for controlling and monitoring of Station MEP Equipment such as Lighting, Lifts, Escalators and HVAC system.
Earthing System
Mesh type / dedicated earthing is provided at each sub station for earthing of equipment and structures to achieve the step and touch potential within safe limits and to achieve the overall earth resistance as per statutory requirements. TCE can offer services for master planning and infrastructure works of a metro rail project