Uninterrupted power system (UPS) system is an essential element for any power plants and process plants, buildings, Datacentres., etc. In IT buildings its usage is mainly for datacenter loads, emergency lighting, Hub room requirements, work stations and BMS (Building Management System) Loads.
Normally in all projects, the most widely adopted UPS type is conventional type i.e Rectifier-Inverter-Battery based system. The incoming AC power will be rectified to DC power which will in turn charge the standby battery. Further the DC power is again converted to AC through Inverter which will the feed the critical loads. During Normal operation normal AC power is fed to the loads through Rectifier and Inverter. During emergency condition i.e normal supply failure, Battery will feed the loads through Inverter.
DRUPS
TCE in one of the IT building project, adopted an alternate type of UPS ie DIESEL ROTARY UNINTERRUPTIBLE POWER SUPPLY SYSTEM (DRUPS)
Diesel rotary uninterruptible power supply system (DRUPS) combines the functionality of a flywheel-powered UPS and a diesel generator
Main Components
Main components of DRUPS include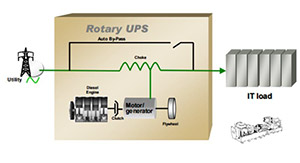 Block Diagram of DRUPS
Flywheel
Diesel Engine
Motor Generator (MG) set
Choke and coupling devices
Breakers
Flywheel
is an energy storage device which stores the kinetic energy generated by rotation of the flywheel on high speed through the coupled MG Set. Some of the advantages of flywheel are rapid charging time i.e less than 15minutes, smaller footprint compared to battery energy storage devices, and wide operating temperature range.
Choke
- This is used as a filter to address the power quality problems, like harmonics, and frequency variations.
Diesel Engine and MG Set
used in DRUPS will be a quick start engine coupled with MG set.
Operation Philosophy
During normal condition when grid electricity supply is available and within desired limits, the grid supply will directly feed the loads through the choke and coupling devices. Under this condition, the MG functions as a motor to store kinetic energy in an electro-mechanical flywheel which is coupled to MG.
When grid supply fails/goes beyond tolerance limits, stored energy in the flywheel is released instantly to drive the electrical generator, which continues to supply power without interruption till the diesel engine starts.
DRUPS Types
There are two types of DRUPS
Induction (Mechanically) Coupled DRUPS system
Electrically Coupled DRUPS system.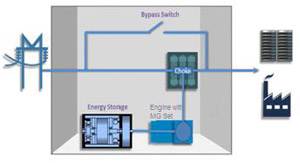 Mechanically Coupled DRUPS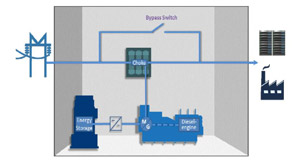 Electrically Coupled DRUPS
Mechanically coupled DRUPS is with single shaft assembly of rotating machines - comprising of Diesel Engine, Free-Wheel Clutch, Motor Generator set and flywheel.
In the electrically coupled DRUPS, there is no mechanical connection between the flywheel energy storage unit and Diesel engine & MG set. They are interconnected through cables. Cost of Electrically coupled DRUPS is slightly higher.
Both types are technically comparable to each other and are designed to meet the Information Technology Industry Council (ITIC) Curve requirement. So, technical adequacy is fulfilled by both the systems for IT applications. DRUPS is costlier than conventional UPS and emergency DG sets. It is generally used for higher ratings. Hence it is imperative to perform a cost economic study for selection of DRUPS Vs conventional UPS/DG.
Above discussed UPS was suggested after a thorough study critically examining the reliability and availability. TCE with its expertise and experience could perform these type of studies and propose the most optimal solution for uninterrupted supply for IT building or any other critical process plants.