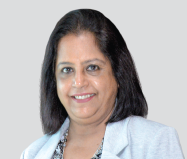 Ms. Kalpana Jaishankar
Head – HR & CSR

Tata Consulting Engineers Limited
With more than 35 years of experience in Human Resource including HR leadership roles in leading organizations, Kalpana Jaishankar is the Head of HR & Corporate Social Responsibility (CSR) at Tata Consulting Engineers Limited (TCE), a wholly-owned subsidiary of Tata Sons. TCE offers a wide range of multi-disciplinary services in Design & Engineering and Project Management across several sectors.
As Head HR, Kalpana is responsible for overseeingHRsystems, handling employee relations, ensuring compliance with regulations, managing budgets, assessing staffing needs, hiring employees, designing training programs, and developing compensation plans.
In her CSR portfolio, Kalpana is responsible for defining and developing the strategies which underpin the company's CSR objectives and ensure implementation of strategies to impact the environment and local communities positively.
Her strengths lie in areas such as HR Strategy, Performance Management, Competency Frameworks, employee engagement, compensation strategies, understanding the needs of local communities and the corporate's social responsibility
Before joining TCE, Kalpana was associated with Mastek, Patni Computer and Geometric Software solutions in HR leadership roles.
Kalpana has spearheaded many change management initiatives in different organisations and has represented TCE at various forums. Known as a people's person, Kalpana is exceptionally approachable and is a good listener.
Download Profile