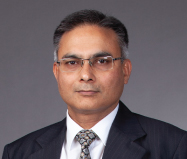 Mr. Manoj Kumar
Head - Resources (Hydrocarbons & Chemicals) BU

Tata Consulting Engineers Limited
With more than 37 years of experience, Mr. Manoj Kumar is Head of Resources (Hydrocarbons & Chemicals) Business Unit at Tata Consulting Engineers Limited (TCE), a wholly-owned subsidiary of Tata Sons Ltd. TCE offers a wide range of multi-disciplinary services in Design & Engineering and Project Management across several sectors.
Based at the Corporate Head Quarter at Mumbai, Manoj heads the Hydrocarbons and Chemicals Business providing comprehensive EPCM services to the Clients in Oil & Gas, Refineries, Petrochemicals, Fertilizers, Bulk Chemicals, Specialty Chemicals, Food, Pharmaceuticals, Cement, Glass, and Rubber sectors both in India as well as International. Manoj, in his role, is responsible for Business development, Projects' Delivery as well as P&L for the Business Unit.
A graduate in Mechanical Engineering from Indian Institute of Technology, Roorkee Manoj brings extensive experience in Engineering and Project Management of mega projects in Hydrocarbon Sector.
Prior to joining TCE in 2014, Manoj was working with Engineers India Ltd.  where he was responsible for Engineering and Project management of Mega Projects in Refinery and Petrochemical sectors. He was part of the Engineering and Project Management teams of 9 Petrochemical Complexes and several refinery projects. While with EIL for more than 3 decades, he was also responsible for International Business Development and worked as Executive Director of EIL's JV in Saudi Arabia.
Download Profile