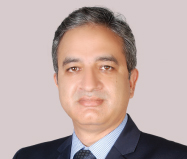 Mr. Ashwani Sadhu
Head - International Marketing Group (MEA)

Tata Consulting Engineers Limited
With more than 25 years of experience in Sales & Marketing in Asia, Middle East, Africa, South East Asia for Engineering, EPCs & OEM EPCs, Ashwani Heads the International Marketing at Tata Consulting Engineers Limited (TCE) for Middle East & Africa Region
In this role, Ashwani oversees the company's Sales & Marketing efforts for Middle East & African region including management of Key Accounts and heads the TCE subsidiary in Saudi Arabia.
Ashwani joined TCE in 2016 as Head of Sales for Power Business before being appointed as the Head of International Marketing for Middle East & Africa in 2018.
Ashwani brings a rich experience of over 22 years in the Power sector. Before joining TCE, Ashwani has worked with multiple large organisations in Engineering and Construction (E&C) Industry such as MAN B&W, Reliance Energy, Alstom, Lanco Infratech & Tractebel Engineering.
Ashwani has performed different roles throughout his career such as Sales, Sales Support, Tendering & Proposals, Business Development, Consortium and Strategic Tie-ups for large EPC Projects etc.
Download Profile