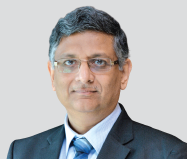 Mr. Aditya Kumar Mishra
Head – Business Excellence, Corporate Communication & Administration

Tata Consulting Engineers Limited
With more than 33 years of experience in Operations & Maintenance, Training & Development, International Marketing, Strategy and Business Excellence, Aditya is the Head of Business Excellence & Strategy at Tata Consulting Engineers Limited (TCE), a wholly-owned subsidiary of Tata Sons Ltd. TCE offers a wide range of multi-disciplinary services in Design & Engineering and Project Management across several sectors.
As Head Strategy & Business Excellence, Aditya is responsible for strategy development and deployment at TCE. He is also spearheading the company's business excellence journey and is a key member of the Corporate Management Committee.
Aditya joined TCE in 2009 and has held various leadership positions before his current role. He also worked in TCE Qatar for few years and was responsible for the International Marketing and business development.
Before joining TCE, Aditya served Automotive Stampings and Assemblies (ASAL) Limited for four years where he was responsible for Operations and for driving Improvement Initiatives such as 5S, Lean & Six Sigma, under the umbrella of the Tata Business Excellence Model (TBEM).
Prior to ASAL, Aditya was Head -Improvement Management at PidiliteIndustries Limited for over 2 years and was driving TQM, TPM, Six Sigma and Expense Monitoring across the company.
Aditya started his career with Tata Steel in 1986 and served the company for more than 17 years. Here, he worked in various roles such as Operations & Maintenance and Training besides driving structured improvement initiatives -TQM, TPM, Six Sigma, Knowledge Management, Quality Systems; under the umbrella of the Tata Business Excellence Model.
Aditya is a confident speaker and has excellent people management skills. He has represented the company at various forums and has assessed more than 10 organizations as a TBEM assessor / team leader.
Download Profile