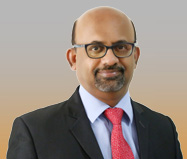 Dr. Rajashekhar Malur
Chief Technology Officer

Tata Consulting Engineers Limited
A Ph D from Indian Institute of Technology Kanpur, Dr. Malur has more than 25 years of experience in Product and Plant Engineering in the power industry. A strong believer in embracing change his penchantfor new technologies coupled with strong process and people management skills has helped Dr. Malur, excel in various roles
Dr Rajashekhar Malur (Raj) is based in Bengaluru, India and is the Chief Technology Officer at Tata Consulting Engineers (TCE). In this role, Raj is leading a team of Subject Matter Experts (SMEs) across Business Units and Disciplines.Raj is also responsible for the developmentof technology strategies, new technology offerings aligned with the tech strategy, and working with theBusiness Unit Heads to ensure technology relevance in the organisation. He is also responsible for continuous improvement, designguides, standardisation, innovation and value additions, automation, 3D engineering, knowledgemanagement, patents and publications.
Prior to this role, Raj has performed various roles in TCE. He was the Head of Thermal Power from 2013 to 2016 and Global Delivery Head for the Energy Business from 2016 to 2018 responsible for project delivery across Generation(Thermal, Nuclear, Hydro, Renewable and Opex sectors) and Transmission & Distribution with 800+resources. He was the Vertical Head of Overseas Projects for Power Business from 2008 to 2013.
Before joining TCE, Raj was working with GE John F Welch Technology Center in 2000 and held various roles such as Project Lead for CF34 Engines in Aviation; Leader for Reliability team in Energy; Engineering Manager for Thermal Systems and Power Plant Engineering; and is a certified Six Sigma Master Black Belt from GE. Previously, Raj was with ElectrowattEngineering Oman from 1998 to 2000 handling Gas-fired power plants in Oman and Qatar and TCE from 1994 -1998 where he worked on TarapurAtomic Power Plants Unit 3&4.
Raj has in-depth knowledge on technology, innovations and technology trends. As a thought leader, he has spoken at various India and International forums and regularly interacts with the industry bodies shaping opinions.
Download Profile