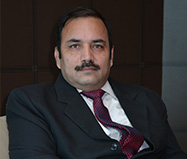 Col. Anurodh Mishra
Head - Estate

Tata Consulting Engineers Limited
With more than 23 years of experience in Indian army and around 08 years with corporates, Col Anurodh Mishra is Head Administration and Facilities at Tata Consulting Engineers Limited (TCE), a wholly-owned subsidiary of Tata Sons Ltd. TCE offers a wide range of multi-disciplinary services in Design & Engineering and Project Management across several sectors.
In this position, Col Mishra oversees the company's global administrative operations including planning, acquisition, operations and facility management of office spaces. As part of his role, he is also responsible for Budgeting, Capital and revenue procurement, Travel and accommodation and International mobility.
Col Mishra also looks after Leave and attendance, Expense management, Health and insurance, Security, and Canteen facilities for the organisation and budgetary tracking and analysis for the admin function. At TCE, Col Mishra has been instrumental in automation of all aspects of his function, and has driven growth and change initiatives a member of the Corporate Management Committee.
Prior to joining Tata Consulting Engineers Limited, Col Mishra has served for 23 Years in the Indian Army, Corps of Electronics and Mechanical Engineers, with distinction and has held many leadership roles. He has also served with the Elite Parachute Formations.
Download Profile