Control and Basics of Large Public Address System (PAS)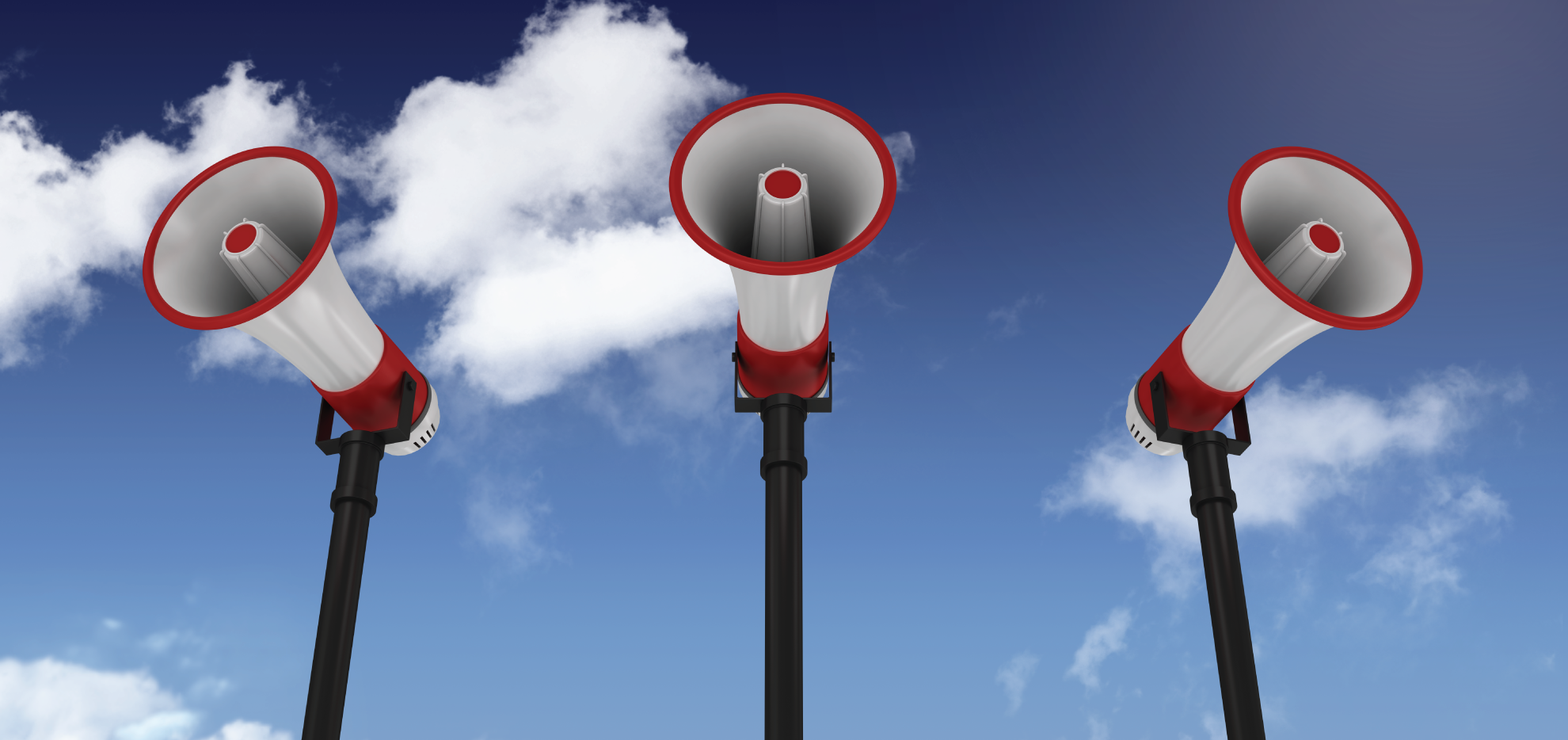 Modern-day, Public Address (PA) System is the basic requirement for all Infrastructure areas. Public address systems are usually used to address public gatherings and audiences in public places.
Evolution of the PA System
In previous days Analog type of PA System was installed. Presently PA System components have been digital in nature. This changed the performance, flexibility, and connectivity of the system. In this article, we shall discuss the Large PA system. Large PA system is being installed for addressing large gatherings spread over a 1-2 km of span or the areas where the PA system is operated from different control booths situated at a distance from each other. Large PA system is a fully Digital type of PA System. In the Digital type PA system, Voice data is transmitted as Voice over IP data. In the following Image, Evolution of the PA System has been briefly described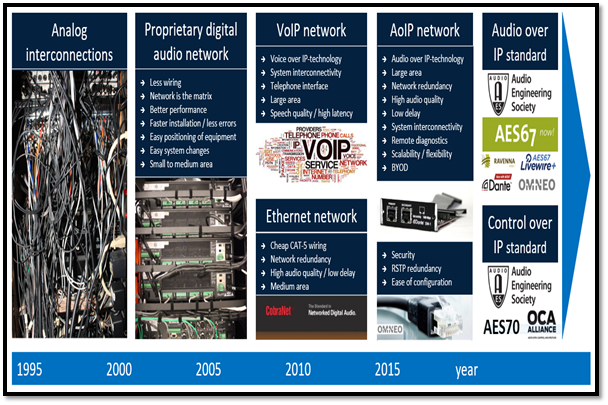 Difference between Large and Conventional PA Systems
The following section describes the difference between Large and Conventional PA systems in tabular form.
| | | | |
| --- | --- | --- | --- |
| Sl. No. | Parameter | Conventional PA System | Large PA System |
| 1 | Control Scheme | Centralised Control from Single Control Room | Distributed Control from Different Locations are executed |
| 2 | Type of System | Partially Digital and Partially Analog | Fully Digital |
| 3 | Connectivity Scheme | Not required as Control of Equipment is done from single place | Required Redundant Connectivity between all the Control Centre for Signal Transmission |
| 4 | Area of Installation | Offices, shopping malls, Single Block Buildings, Small Public Gatherings etc. | Large Public Gatherings, Distributed Yards etc. |
| 5 | Operation Manpower | Single Person can operate whole system | Multi-operator at different places are required |
| 6 | Operating Device | Normal PC with the required software | High-end PC with Networking Devices with necessary software and hardware |
Typical Component arrangement for equipment in Equipment Rack
In Digital PA System, all the components at the control centre are installed in a rack. The rack should be properly cooled, and the equipment on the rack should be dust free.
Components in Small and Large PA systems are similar only; the Amplifier and Speaker ratings will be higher to cater to the audio requirement.
The components which are pertaining only to the Large PA System are as follows:
OFC Network Connectivity
Network connectivity Tool
Digital Signal Processor (DSP)
A typical arrangement of the equipment in an Audio rack is shown in the image below. (Arrangement may be changed as per requirement)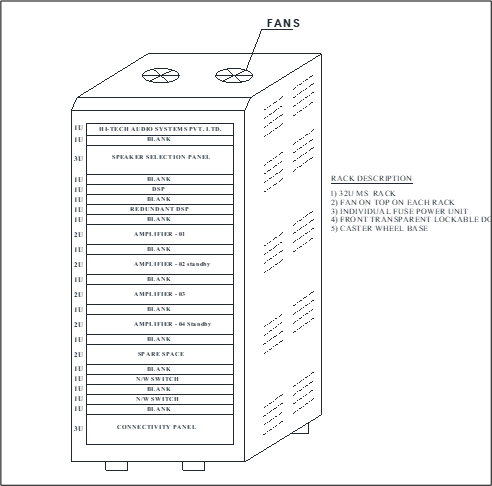 Typical Component Arrangement in an Audio Rack
Network Connectivity of Different Control Booth
For the Large PA System design, all the control booths should be connected through a redundant LAN network so that the signal is not lost to network issues. In the below image, a typical connectivity provision has been shown. OFC networks 1 and 2 should follow a different route to avoid common mode failures.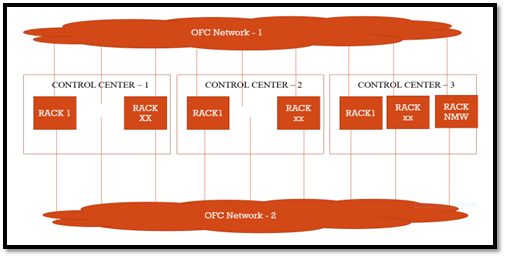 Typical Connectivity Scheme for Large PA System with Components
Control Centre Connectivity
In each control centre, individual racks and components should be connected to the central network rack through a redundant CAT 6 cable to the centre Main Network rack. The main network rack is connected to another main network rack via a redundant OFC network. The below image illustrates the connectivity scheme.
In this scheme, it has been shown that all the rack components, e.g., Digital Signal Processor (DSP), Amplifier, Mixer etc., are connected through a redundant LAN (CAT6) network to the control centre network switch, and Finally, all the Network switches are connected to another centre's network switch via redundant LAN (OFC) network.
This scheme ensures data protection if any network is down. Another network will cater for the Voice over IP data.
Primary and Secondary OFC network and their connectivity with the amplifier and DSP are briefed in the following image.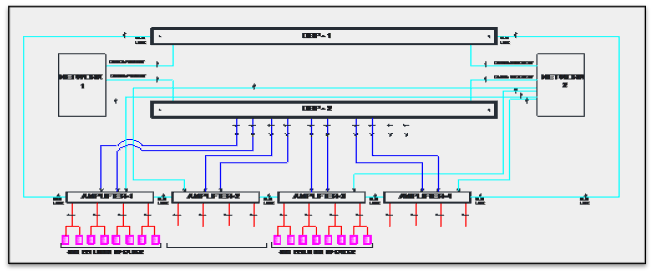 Typical System Architecture for Large PA System
For Large area PA Systems, the system will be controlled from different control booths. The typical system architecture below shows that the PA system is controlled through different control booths in three locations. The Audio amplifier is chosen from 4 channels and can cater to 2 speakers.
Nearby Speakers in the field area, are connected through different amplifier channels. This is done due to avoidance of audibility loss.  If any amplifier goes down, connecting speakers will not operate. To avoid discontinuity in the program's audibility, nearby speakers connected to different amplifiers come into action.
The below image shows typical System Architecture for Large PA systems and component connectivity schemes.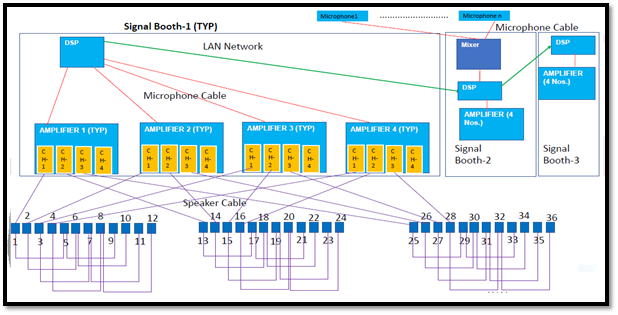 Typical System Architecture for Large PA System with Components
Power Supply arrangement for PA System
Large PA Systems should always be properly powered with Redundant UPS power source. Power load should be calculated from the load data of the following active components
DSP
Mixer
Amplifier
Monitoring Console
Rack Components
Speakers are passive devices, and power to a speaker is fed from Amplifiers.